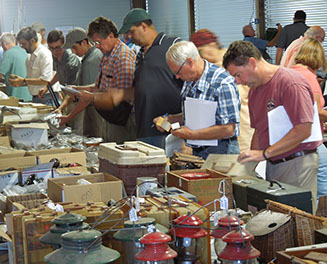 The "Discovery" Auction will be a huge 2 day sale, including tens of thousands of antique and collectible fishing and hunting related items. Both days, the auction will take place on the Cider House Showfield in Bouckville, NY, under the permanent Pavilion.
Lang's August 11 & 12, 2017 auction will kick off an incredible 10 day multi show event in the heart of central New York's Antiques Community. The Madison-Bouckville show has grown over the past 40 years into a major event, touting many individual shows, each opening on different days, and culminating with a huge open air show August 14-20, 2017. It is estimated over 40,000 dealers, collectors and retail buyers attend this event each year.
We will also be hosting Lang's FREE Outdoor Sporting Show adjacent to the Discovery Auction site, which will include a wide range of high quality sporting and antiques dealers from all over the US. A selling and buying venue like no other, where collectors and dealers can meet for business or pleasure.
Thousands of Antique & Collectible Lures, Hundreds of Reels, Early to New Rods, Angling & Reference Books, Fish & Animal Mounts, Creels, Early Angling Gadgets, Fish & Duck Decoys, Sporting Art, Antique Ephemera, Early Tins/Advertising, Early Oil Bottles & Oilers, Custom & Collectible Knives, Paintings & Etchings, Bait Cans, Line Spools, Glass Minnow Traps, Custom & Display Showcases, English Tackle, Carvings, Vintage Award Pins, Full Tackle Boxes, Early Photography, Antique Floats, Fly Tying Materials & Flies, Early Fishing & Hunting Catalogs, Duck & Bird Stamps & Art, Duck/Bird/Animal Calls, Early & Custom Nets, Vintage Toy Boat Motors, Antique & Collectible Signs, Spring Hooks & Harnesses, and just about any other Fishing Related item you can imagine - Hunting too!
From rare early items to new/old store stock, this auction will have it all!
For those that are not familiar with the annual week-long buying event in Madison/Bouckville - It is a series of outdoor shows (big & small, garages, lawns, barns, etc.) along a two mile stretch of Route 20 in central New York's "antiques row" of Mom & Pop and group shops. 1,000+ (nobody really knows how many) antiques and collectibles dealers (and locals looking to clean out their attics and basements), set up in numerous hayfields, on professional show fields, and on residential lawns. This is definitely "farm country" for those who are not familiar with the area. These shows start setting up the day after the Discovery auction, and continue opening on a staggered schedule with different shows opening almost every day. The shows run until the following Sunday (when the collectors and dealers go home and the farmers get their fields back).
It's a scenic drive to this upstate NY location, no matter which direction you come from. The Discovery auction is held in a large permanent pavilion, so it's rain or shine. There will be food available, a large free parking area, full service RV and tent camping, Wi-Fi, children and dogs are welcome, and there's fishing within minutes in any direction (and don't forget the adjacent Free Antiques & Collectibles Show - free dealer booths, free to the public).