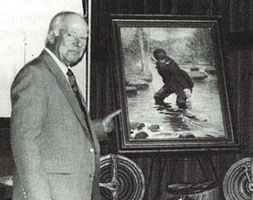 Bob Lang's first auction debuted in 1991 with the distinction of being the only auction house dedicated solely to the field of antique and collectible fishing tackle. From this uncertain initial venture, Lang's, Inc. has grown to include three successful selling venues providing comprehensive services for every level of consignor or buyer.
Purchased by John Ganung in 2002, Lang's growth continued. Lang's Auction now enjoys participation from collectors in 44 countries and achievements such as world record auction prices in every category of antique and collectible tackle, as well as record prices for the sale of Derrydale Press books and Zane Grey related items.
A serious collector of antique tackle, even before the advent of tackle related clubs, John has spent his life fascinated
by the trappings of this engaging sport. Collecting since the age of 14, his interest has not waned. More than four decades later, he is still every bit as passionate about antique fishing tackle as you are.
This passion extends not only to his ownership and management of Lang's, Inc., but the continued health of tackle collecting and his close relationship with many of this field's top collectors. Whether for a consignor's routine question, personally inspecting an auction item for a bidder, or discussing the best trout streams in New York, the owner of Lang's has always been, and will continue to be, available to you. John's favorite aspect of the business is meeting with fellow collectors. To that end, the vast majority of consignment pick-ups are performed by John himself - traveling more than 100,000 road miles each year to meet with as many Lang's customers as possible.
More than 20 years ago, Bob Lang wrote "This business was started with one simple goal - to facilitate honest transactions where both buyer and seller are satisfied with the result", this goal is as important to us today as it was to Bob then. In fact, the many changes, small and large, that have come about in the last decade have all taken place with this fundamental objective in mind.
By respecting the needs and wishes of both buyers and sellers and treating all parties fairly and honestly at every point of the transaction, Lang's has succeeded in becoming the largest and most respected tackle auction in the world.
As we look back at Lang's first two decades and the accomplishments that ensued, we cannot help but be extremely thankful to all of you. When Bob Lang stepped down and we aspired to fill his shoes, you gave us your patience and a chance to prove we were serious about this business and the future of tackle collecting.
Through economic ups and downs, and the invasion of the Internet with all the changes this new arena presented, tackle collectors have not only continued to patronize Lang's, but the business has grown exponentially. The current collector mailing list is more than ten times what it was when we purchased the auction in 2002, and the name "Lang's" is now synonymous with high quality antique fishing tackle worldwide. Together with your involvement, we hope to further broaden this field, bringing in as many new collectors in the next 20 years as have joined us in the last.
Our sincere thanks for your acceptance of our stewardship, your trust and patronage. Your continued support could not be more appreciated,
John & Debbie Ganung